Antioxidants and the Fight Against Free Radicals
Just by breathing we can do damage to our bodies. This is because when we inhale oxygen, our body's cells use that oxygen to produce energy, which produces free radicals as a natural by-product. Free radicals are molecules that have lost one of their electrons, therefore rendering them unbalanced and highly reactive. These free radicals then cause damage to our bodies, called oxidative damage. On top of this, poor diet, excessive exposure to the sun, pollution, and substances such as alcohol and cigarettes also create free radicals that further damage cells.
Antioxidants prevent or slow the oxidative damage to our body and also repair cell damage. This is because antioxidants act as 'free-radical scavengers' to fight these cell-damaging free radicals. Many health problems, such as heart disease, diabetes, infections, hypertension, cancer, immune system dysfunction, etc are contributed to by oxidative damage. Antioxidants can also help prevent the signs of aging by reducing cell degradation and by assisting in the prevention of a number of degenerative diseases.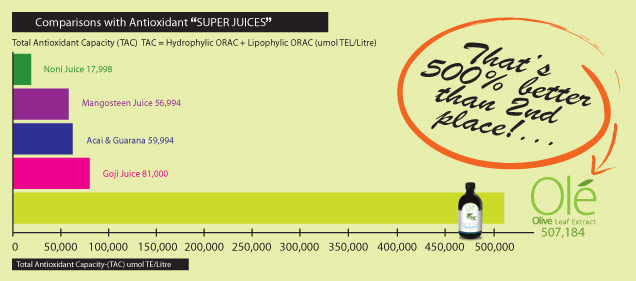 Polyphenolic Antioxidants and Flavonoids
Olive leaf extract contains a broad spectrum of polyphenolic antioxidants, which have very strong free radical-fighting properties. The main phenol in olive leaf extract, oleuropein, has been found to strengthen the immune system, and research shows it has a positive hypotensive effect in vivo (in body) and displays strong antioxidant activity. Combined with the many phenols in olive leaf extract are flavonoids, the most active being the antioxidant-strong rutin, catechin and luteolin.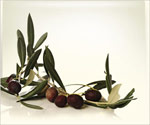 When combined, as occurs naturally in the olive leaf, the many phenols, flavonoids and the high oleuropein content show a naturally synergistic behaviour. It is this natural synergy that makes the extract from olive leaves so powerful. When the leaves that are used to create the extract are freshly picked, the potency of the extract is considerably higher in strength and is more readily bio-available than dry leaf or reconstituted powder.
Antimicrobials
Among the many phenols found in fresh-picked olive leaf extract is hydroxytyrosol, which is a catechol derivative of oleuropein. Both oleuropein and hydroxytyrosol are powerful antimicrobial agents against a variety of viruses, bacteria, yeasts and fungi. Hydroxytyrosol in particular is known for its wide spectrum of antimicrobial effects.